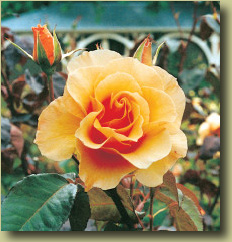 Photo by Suzanne Parker.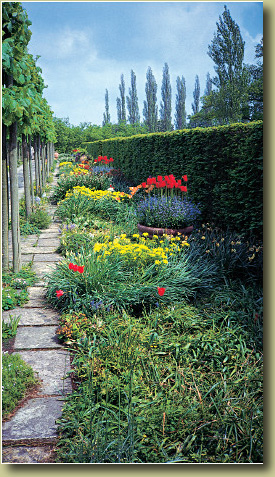 Sissinghurst Castle Garden. Photo by Paul Coopersmith.
Dear Garden Enthusiast,
Welcome to COOPERSMITH'S, North America's oldest and most trusted garden tour company. As we begin our 30th year, I find myself thinking back to what it was like when we started out, and reflecting on some of the more exciting changes that have enhanced our travels since then.
Back in the 1980's, when we focussed primarily on Great Britain, it was an ongoing challenge to find country inns and manor house hotels that, in addition to beautiful surroundings, comfortable accommodations, and old-world ambiance, offered meals worth writing home about. By the late '90's, however, a change was in the air. Nowadays, following a revolution in British cuisine that has been nothing short of breathtaking, hotels and inns in the UK are as likely to be known for their cordon bleu cooking as they are for the comeliness of their rooms, or the bucolic countryside in which they are situated.
Two award-winning establishments that came to our attention several years ago, and now consistently receive rave reviews from our clients, are Baba Hine's Corse Lawn House in the Cotswolds, and Catherine and Martin McAlpine's Ty Mawr Mansion in Wales. Both of these country house hotels in idyllic settings host our groups for a week at a time, serving meals that have won accolades in the prestigious Good Food Guide (UK) and elsewhere. The Blakeney Hotel in Norfolk has also impressed us with its culinary prowess, and will be featured again in 2014.
The gastronomic renaissance that has transformed the experience of dining out in Great Britain has parallels in other Northern European countries. If you have not been to Scandinavia lately, you may be surprised to learn that the "New Nordic" cuisine is both attracting and producing a number of the world's most celebrated chefs. On Norway & St. Petersburg: A Midsummer Journey we'll get to sample some of the very best of that new wave in cooking, which has resulted in a constellation of Michelin stars being awarded throughout Scandinavia.
A second dramatic change that has occurred in recent years is the ease with which one can travel in places that formerly were part of the USSR. Although a visa is still required to enter Russia, once there one is free to tour this fascinating country in a way that would have been unimaginable not that long ago. On that same midsummer journey referred to, above, we'll get an insider's look at St. Petersburg, Peter the Great's grand and elegant 18th-century city that has rapidly become one of the world's most sought-after destinations.
What has not changed over the course of 30 years are the seemingly limitless opportunities to give our clients those once-in-a-lifetime experiences they will always cherish. In 2014 we will again be the guests of the Duke and Duchess of Devonshire at palatial Chatsworth House in the Peak District, the subject of a recent three-part BBC documentary. And I'm very pleased to announce that we've managed to book two groups—Springtime in the Cotswolds and Oxfordshire Gardens & Stately Homes—into the Earl of Carnarvon's spectacular Highclere Castle, known to people around the world as the location for the mini-series, "Downton Abbey." We'll also visit Bampton, the historic Cotswolds-stone hamlet where the Downton wedding ceremonies, Mrs. Patmore's shopping jaunts, and other village-related activities take place. Talk about a day to remember!
Come join us in 2014. And see for yourself what makes our tours truly One-of-a-Kind™!
Happy travels,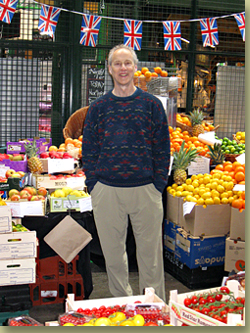 Paul at Borough Market, London. Borough has become one of the largest and finest open-air food markets in all of Europe. Photo by Suzanne Parker.
"Exceptional private tours, [by] a luxury garden tour specialist..."
— Martha Stewart Weddings
"A company that specializes in small groups [where members] are often taken to private gardens rarely seen..."
— The New York Times
"My wife recently had the good fortune to meet and speak with [famous English horticulturalist] Penelope Hobhouse, who recommended your garden tour as one of the two best in Europe..."
— Collier Espy, Jr., Dothan, Alabama